| S. No. | Name |
| --- | --- |
| 1 | Dr. P. K. Srivastava |
| 2 | Dr. Zeba Siddiqui |
| 3 | Dr. Vivek Kumar |
| 4 | Dr. Sanjay Arora |
| 5 | Dr. Ashok Kumar |
| 6 | Dr. Vaibhav Shukla |
EVENTS
INAUGURAL MEETING OF ISAR- UP CHAPTER
MINUTES OF THE INAUGURAL MEETING
The Inaugural meeting of the UP Chapter of the Indian Society of Atherosclerosis was held at 8.30 p.m on the 7th of April 2017 at Hotel Levana, Lucknow. The Honorary President of ISAR, Mrs. Suman Bala Sharma, Professor Department of Biochemistry, UCMS and GTB Hospital was the Chief Guest and Vice President ISAR Dr. Anupam Prakash, Professor Deptt of Medicine, LHMC New Delhi was the Guest of Honour, for the Inaugural meeting. The Inaugural Ceremony was attended by over fifty doctors including reputed practitioners of Lucknow, Senior Faculty of KGMC and Era's Lucknow Medical College, Lucknow and Postgraduate students from various Medical colleges of Lucknow.
The Secretary ISAR UP Chapter, Dr. Nirupam Prakash initiated the proceeding with a formal welcome of the Chief Guest, Mrs. Suman Bala Sharma by the Chairman ISAR UP Chapter Dr. Jeevan Prakash and Guest of Honour Dr. Anupam Prakash by Dr. K. K. Sawlani Vice Chairman of ISAR UP Chapter. The guests for the evening accompanied by the members of the Executive Committee were then invited to light the Inaugural Lamp of learning and Enlightenment followed by the Saraswati Vandana.
The Chairman UP Chapter then invited the President ISAR, Mrs. Suman Bala Sharma, to deliver her words of wisdom. Mrs. Sharma then spoke on the importance of gaining the membership of the ISAR and the International Atherosclerosis Society. She informed the members regarding the aims and objectives of the Society and how to achieve them. She praised the members for coming together to form the UP Chapter of the ISAR and appreciated the enthusiasm shown by all the members of the Executive. She further emphasized that Research is the key to gaining knowledge and we should work towards its enhancement and dissemination.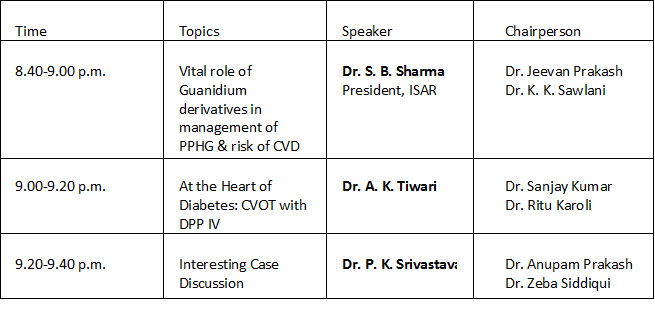 The scientific sessions were very well orchestrated with Dr. Suman Bala Sharma, President of the Society, very beautifully presenting her work on the vital role of Guanidium derivatives in the Management of PPHG and risk of CVD. Her presentation was highly appreciated by al the attendees. It was followed by deliberation of Dr. A.K. Tiwari, a senior practitioner with lots of research to his credit, on cardiovascular outcome trials DPP IV inhibitors. The scientific sessions culminated with an exclusive case presentation by Dr. P.K. Srivastava, Member Executive Committee ISAR UP Chapter, on Familial Hypercholestrolemia, which left the audience enthralled.
The meeting ended on a high note, with the Chairman ISAR UP Chapter Dr. Jeevan Prakash presenting the Vote of Thanks to the esteemed National Executives and the Attendees of the meeting. He called upon all members of the ISAR UP Chapter to work towards the furtherance of research in the field of Atherosclerosis and develop the zeal for research and publication in the students. The copies of the ISAR Newsletter were distributed to all the members to apprise them of the current and forthcoming activities of the society.